Contact: Mr. Sailor (sales specialist)
Email: sailor@flexconduit.com
Tel: 0086-769-22022018
Address: B Building, No.80 Hongfu Road, Nancheng District, Dongguan City, China
Five advantages of PVC coated flexible conduit
Five Advantages of PVC Coated Flexible Conduit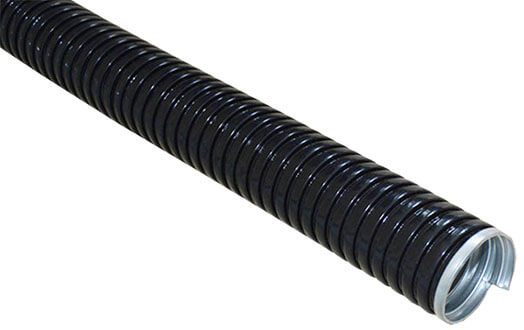 pvc coated flexible conduit
PVC coated flexible conduit is widely used in electric and electronics industry, to protect wire and cables. It has five advantages compared with flexible metal conduits and plastic corrugated conduits.


pvc coated conduit structure
As we know, PVC coated conduit outside is Rohs PVC, inside is galvanized steel or stainless steel conduit. PVC can stop water, oil, the acid and alkali. Inside steel make conduit work longer. And it's five strengths are based on structure.
1. More Durable.
General, steel is easy to be occurrence of corrosion in wet situation. And now steel conduit is coated by PVC, PVC can stop water. So PVC coated conduit can work longer than general flexible metal conduit.
2. Fireproof.
PVC coated conduit's outside is Rohs PVC, and Rohs PVC is a kinds of good fire proof material. So it is fire-proof too.
3. More Stable.
Rohs PVC can stop the water, oil, the acid and alkali, to make the inside steel more stable than ordinary cable conduits.
4. More Convenient.
Compared with plastic and metal cable conduit, it is more smooth in the outside and inside. So it is easy to put the wire or cables in it, and move them easily too.
5. Better Appearance.
The appearance of flexible cable conduit like bellows, but PVC coated conduit outside is smooth. It could be more smooth and beautiful by increasing the thickness of PVC during the production.
Now flexible metal conduit and plastic flexible conduit are more and more popular in our daily life. PVC coated conduit has they are common advantages, and the price also competitive. We think the PVC coated conduit could be more widely used in the electric and electronics in the near future.
If you have any ideas about PVC coated conduit, welcome to send us email (sailor@flexconduit.com) for any assistance.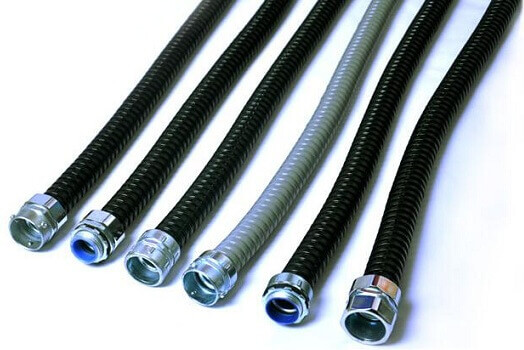 pvc coated flexible conduit with general connectors